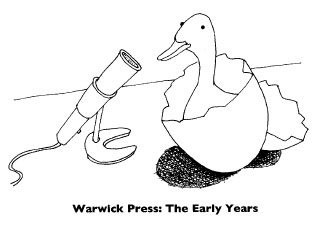 Podcast! hear Carol Live! at www.bookarts.ua.edu/



(needs Quicktime)
The back story: In November 2006, the King Library Press at the University of Kentucky Libraries celebrated its 50th anniversary with two festive events: the first being a speech by Dr. Alice Prochaska, head of the Yale University Libraries. The second event was a day- long Book Arts Seminar where Andrew Hoyem, of the Arion Press, San
Francisco, and Steve Miller, coordinator of the M. F. A. in the Book Arts Program at the University of Alabama, and I each spoke about topics dear to our hearts. Paul Evans Holbrook, Director of The King Library Press also graciously gave tours of the fabulous facility and answered countless questions from the eager and interested attendees.
James Birchfield, Curator of Rare Books lent his usual scholarship, wit, and humor to the occasion. A grand time was had by all.
Over the two-day festivities, Steve and I had an opportunity to visit during down times and he asked to interview me for his growing collection of interviews with book artists and printers. It was a pleasure to say, "Yes," and the results are now posted on Steve's site, www.bookarts.ua.edu/