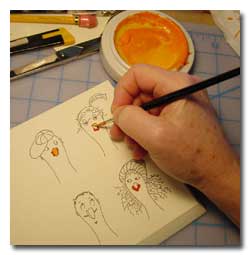 In 1973, Warwick Press began as a way to bring words into print that delighted and pleased its proprietor, Carol J. Blinn. What began as a small
venture blossomed into a thirty-plus year career. The subject matter of Warwick Press editions ranges far and wide: from serious world-class poets to homey ducks having adventures.

One thing is constant over all these years - the desire to produce uncommon work exceedingly well. Whether looking for a fine press book or a wedding invitation done with style, the Press welcomes your inquiry.